Equine Osteopath
M.Osteopathy, Grad Dip Animal Chiropractic, B. App.Sci (Osteo)
In 2002 Brooke completed her university degree, graduating with a Bachelor of Applied Science (Osteo) and a Master of Osteopathy. She began her osteopathic career in practices in Newtown, Sydney, and in 2004 became an associate with Ian Cassidy in Wollongong, where she continues to practice presently.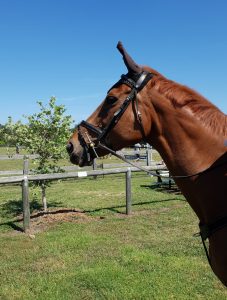 Having grown up with horses, competing in various equestrian disciplines including showing, dressage, and showjumping from the age of 3 years old, Brooke decided to combine her skill as an osteopath and her passion for horses and completed a Graduate Diploma in Animal Chiropractic in 2007 through RMIT university.
Since completing her Animal Chiropractic course Brooke has treated horses from various equestrian pursuits including racehorses, performance horses (showing, dressage, and jumping), endurance horses, barrel races and companion horses.
In 2014 Brooke relocated to the Southern Highlands to have her own facilities and continue to pursue her equestrian passion in amateur showjumping.
Brooke's goal as an Equine Osteopath is to provide holistic treatment and education for equine owners, from the pony clubbers and pleasure riders right through to the professional performance equestrian.
If you would like to book an appointment with Brooke please get in contact with us.